Diagnostics Services on Gearboxes and General Rotating Equipment
Diagnostics Services
GBS Gearbox Services international will provide a comprehensive scope of machinery diagnostic services through an experienced team of engineers. This team will provide in-depth co-operation not only between clients and GBS and but also within the office of GBS; this can ensure that their extensive knowledge is available to bring a project to be fully complete regardless of wherever they may be working in the world.
Our experience
The new present team of experienced engineers has over thirty years of combined expertise in diagnostic field services. Although at GBS the machinery diagnostic service department is relatively new, GBS's diagnostic team will form a highly communicative and resourceful group. In this team work engineers who completed more than 2000 machinery diagnostic projects in the past.
Our Equipment
Our machinery diagnostic service uses state of the art instrumentation, such as Pruftechnik for alignment and geometrical jobs, Bently Nevada for Turbo Machinery jobs, Manner for telemetrical strain gauge jobs and General Electric for videoscope inspections.
Our Location
Our office is located in Oud Beijerland, the Netherlands, just an hour away from Schiphol International Airport. We provide quick international services on site, worldwide.
Professional Reports
Independent from any manufacturer GBS machinery diagnostic services will state all findings in a thorough manner in our reports. Our recommendations will report on further required maintenance or repair, possible changes to operating procedures and other actions that could be taken to eliminate or reduce the problems in the future.
Our services include:
Our services include:
1. Machinery health or condition inspections
2. On site troubleshooting
3. Machinery commissioning
4. Field trim balancing (single and multi plane)
5. Machinery alignment services
6. Geometrical measurements
7. Thermal growth studies
8. Torque and power measurements by telemetric strain gauge technology
1. Machinery health or condition inspections
Our machinery experts at GBS are capable of providing inspections on an individual basis or as part of a contractual agreement in order to access the health or condition of your machinery. In some cases these inspections are periodically carried out and will complement your condition based maintenance program. Other examples where we proved to be successful are related to 'end of warranty' inspections. To inspect rolling element bearings or planetary gearboxes we use the latest videoscopes from General Electric. These videoscopes allow us to identify problems, often impossible to see by the naked eye.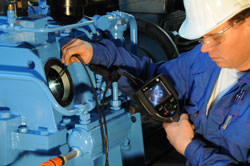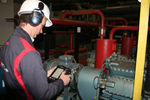 2. On site troubleshooting
Our knowledge, experience and equipment allows us to identify potential machinery malfunctions, such as rolling element bearing defects, gear related problems, rubs, resonances, etc. Significant and valuable time can therefore be saved to resolve the problem.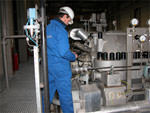 3. Machinery commissioning
Our engineers have extensive experience with advising and assisting the start up of machines after revision, reinstallation, or maintenance outages. Starting up necessitates the gathering of (base line) information and comparative analysis of the information.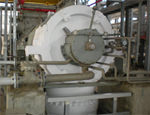 4. Field Balancing
The most common machinery problem is unbalance, which must be confirmed before attempting to balance machinery. Our specialists are trained in isolating unbalance problems and subsequently correcting them either for single plane balancing or multi-plane balancing for complex machines with one or more bearings combined with multiple measurement and correction planes.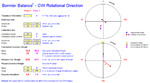 5. Machinery Alignment Services
Second to rotor unbalance, misalignment is a frequently encountered problem. GBS is able to handle both hot and cold alignment projects on your machinery as well as reciprocating compressors in addition to rotating machinery. Our services are available from simple two case machine configurations to more complex multi-case situations such as large steam turbine generators.
6. Geometrical Measurements
Our geometrical measurements are performed with the use of a Levalign Ultra rotating laser system from Prüftechnik. This system and the available expertise, an ideal solution for machinery foundations and weak machinery split casings, provide quick and efficient measurements of surface flatness and levelness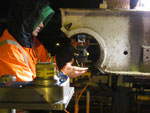 7. Thermal Growth Studies
All our gearboxes, repaired and new, are tested before delivery, to ensure thereby the highest quality standards.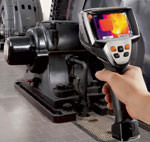 8. Torque and power measurements by telemetric strain gauge technology
The engineers at GBS successfully have completed many torque and power measurements and analyses projects. In many cases these measurements quickly led to the root cause of failing machinery components. Permanent systems have also been implemented world wide, where the recorded torque data is directly linked to a control system, avoiding overloading of the installation.