International BHS gearbox repair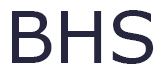 GBS Gearbox Services international is the fastest, full service, worldwide specialist in gearbox repair of BHS gearboxes. Taking the latest innovations of our gearbox service experts, our goal is to get, often mission critical, gearboxes back into production at the shortest timespan possible. We have a winning track record in BHS servicing! Having experience with a wide variaty of brands, we know the weakspots and strengths of any brand and can not only repair but often improve the reliability of any gearbox system.

GBS Gearbox Services international is not an part of the BHS group and has no commercial connections with BHS. GBS is an independent company.

BHS industrial gearbox services
2 different projects on BHS gearbox services
Scope of work:
- Removing, cleaning and inspecting the gearbox, such as:
- Checking condition of the V-teeth of the gear.
- Checking the sliding bearings for damage phenomena.
- Check the contact pattern and backlash of the gearing.
- Checking the shaft sizes t.p.v. bearings, oil seals, gears and links sizes and damage..
- Checking the teeth to tear through magnafluxen, teeth nitrided is indicated on the compositional sketch customer.
- Repair and test-run.
Location - date:
Rotterdam, The Netherlands - October 2010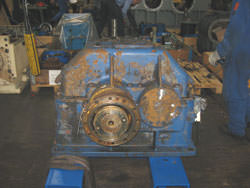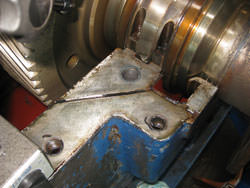 Type:
RP32 DSU32
Power: 3100kW
N1=1495 rpm
Ratio=1 : 6.625
Scope of work:
- Gearbox show a heightened level of vibration TPV the teeth.
- Inspection in 2 days.
Performing:
- Gearbox after entry immediately disassembled and inspected.
- Any damage capturing by pictures.
- Drawing up a complete inspection-report.
- Stop Point. After the inspection we got the order for an complete new set of internals. Upto now only BHS was able to manufacture these gears, now we are also!
Location - date:
Rotterdam, The Netherlands - March 2011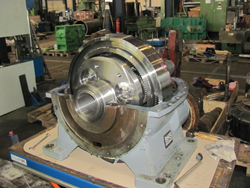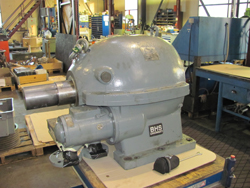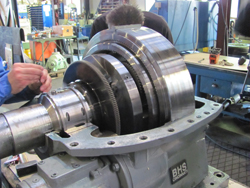 GBS developed there own production for the special Stoeckicht principle. We are able to manufacture in own production these gears.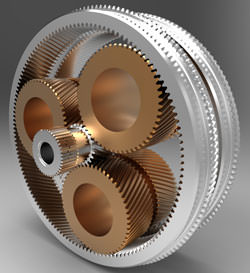 For an overview of all gearbox brands, visit https://www.gbs-international.com/brands/index_brands.php
For BHS Gears we are working in the following markets




OIL & GAS OFFSHORE - Oil rigs and FPSO's


OIL & GAS ONSHORE / PETROCHEMICAL – Pumping and refineries