International Jahnel Kestermann gearbox repair
Jahnel Kestermann
GBS Gearbox Services international is the fastest, full service, worldwide specialist in gearbox repair of Jahnel Kestermann gearboxes. Taking the latest innovations of our gearbox service experts, our goal is to get, often mission critical, gearboxes back into production at the shortest timespan possible. We have a winning track record in Jahnel Kestermann servicing! Having experience with a wide variaty of brands, we know the weakspots and strengths of any brand and can not only repair but often improve the reliability of any gearbox system. We are NOT commercial related to Jahnel Kestermann in Bochum in Germany.
Jahnel Kestermann industrial gearbox services
Jahnel-Kestermann is a specialist company in the development and production of gear units for all industrial applications. Constructive intelligence, readiness to invest, close cooperation with scientific institutes as well as the high standard of production and quality assurance are the main reasons why Ja)(Ke is among one of the leading companies of the power transmission engineering in Germany. The company was founded in 1910 and has approx. 200 employees. Besides gear units made to catalogue, Ja)(Ke specializes in the custom-made or small-lot production of special gear units (max. unit weight now approx. 225 t).
GBS Gearbox Services international is specialised in services the gearboxes in all these industries, as our specialty lies in gearbox services. Our highly experienced emergency support experts work to provide effective solutions that meet your demands, getting your production running!

4 different projects on Jahnel Kestermann gearbox services
Scope of work:
Disassembling and cleaning of gearbox Jahnel Kestermann AU 67.
After that, we inspected the bearings and seals.Reparacion
We made a complete inspection report for our client.
Performed a revision according to revision proposal.
Assembling the gearbox and performing a test run.
Location - date:
The Netherlands - September 2012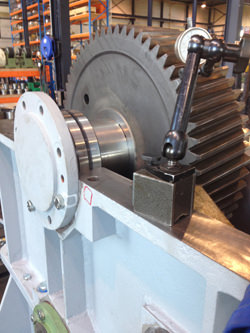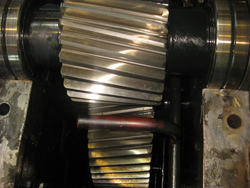 Scope of work:
Revision of the gearbox and making a complete new gear set.редуктор
Revision on gearbox Jahnel Kestermann G2400 A565 includes:
Disassembling, cleaning and inspection.ремонт
Making an inspection report for our client.
Assembling and adjusting the gearbox.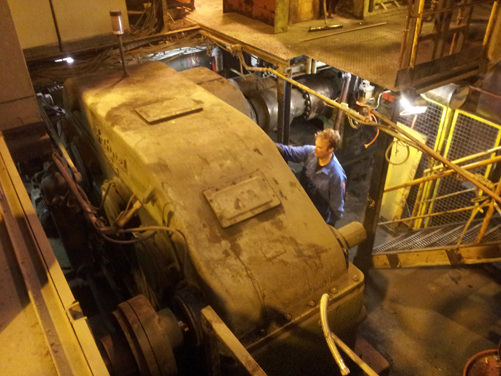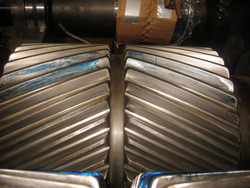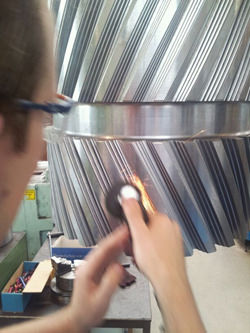 Scope of work:
Our customer called us about a damaged Pinion and they needed a fast solution. We could fabricate an Emergency Pinion within a few days.
The Pinion was assembled onboard by our engineer. Within a few days the ship was back in operation.
The hardened Pinion was ready in august 2011. The Emergency Pionion is still operating fine, so the new Pinion will be used as a spare part.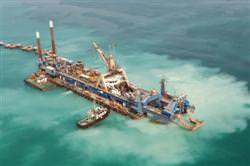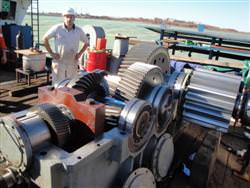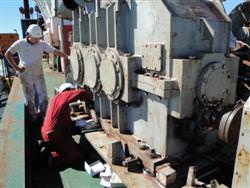 Scope of work:
Two complete gearboxes disassembled in Ghana (Africa).
We had to inspect and repair the inner shaft of the gearbox.
We did the inspection and we reported all our findings to our client. The bearings were damaged, so we renewed them. When our inspection was done, we transported the shaft back to the ship in Ghana and placed it onboard.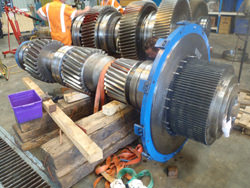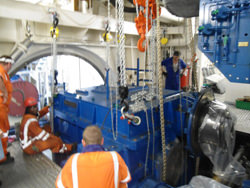 Jahnel-Kestermann produces the following types of gearboxes for:
cutter heads (CD)
cutter wheels
dredge pumps (DP)
jet pumps (JP)
winches (WD)
propellers
thrusters
generators (GD)
For more than 20 years, GBS Gearbox Services has gained extensive knowledge of gear technology through new gearbox design and manufacture. Today, GBS is supplying service to Jahnel Kestermann gearboxes in marine and industrial markets.
Using this experience, our Services division will provide the highest level of commitment to existing and new customers for products already operating in the field.

Ship owners and Industrial companies throughout the world value the reassurance of the superior support provided by the skilled and dedicated engineering and technical specialists that form the GBS Gearsbox Services team.

Field Service Engineers are on constant standby to visit any ship or plant throughout the world. With an unrivalled average 25 years industry and marine experience, they are all fully qualified and certified to work in all environments, both on and offshore. Their high level of technical experience enables most work to be carried out on-site, supported by an practical experienced team of world-leading design and research engineers in the Netherlands.

Our Services team is qualified to inspect, maintain and repair any make or type of industrial or marine gearbox. Many working examples exist of improvements we have made to non-Jahnel Kestermann gearboxes, that have extended the life of the gearbox.
View all industrial gearbox brands in our database.
For Jahnel Kestermann Gears we are working in the following markets
wind power industry
mining industry (e. g. crushers, haulage-, plough- and conveyor systems)
open-pit mining (e. g. bucket wheels, stockpile, pick- ups, belt type spreaders, conveyor belts, hoisting gears, clamping winches)
cement industry, stone & earth (e. g. kilns, mills, levigating-, comminution-, briquetting plants)
marine propeller drives (gearboxes, gears and couplings for working ships)
marine dredging (e. g. cutter heads, - wheels, winches and generator gearboxes)
rubber and plastics industry (e. g. extruders, mixers, calenders)
agitator technology ( i. e. gear and agitator, mixers for chemical application)
rolling mill and steel industry (e. g. rolling mills, coilers, shears, saws)
sugar industry (e. g. presses, minglers)
machining capacity
test bench
POWER:

Total Power Station gearboxes

Circulating Water Pump gearboxes

Boiler Feed Pump gearboxes

Coal Mill gearboxes

Wind turbine gearboxes

Hydro turbine gearboxes

Gas turbine gearboxes

Steam turbine gearboxes

OIL & GAS OFFSHORE - Oil rigs and FPSO's

Turbine generator gearboxes

All Mechanical drive gearboxes

Boiler feed pump gearboxes

Sea water injection pumps gearboxes

Compressor gearboxes

OIL & GAS ONSHORE / PETROCHEMICAL – Pumping and refineries

Turbine generator gearboxes

All Mechanical drive gearboxes

Boiler feed pump gearboxes

Pipeline pumping gearboxes

Pipeline compressor gearboxes

Marine

Propulsion gearboxes

Turbine generator gearboxes

Heavy Industry

Sugar

Steel

Mining

Chemicals