New Leistritz keyseater machine for GBS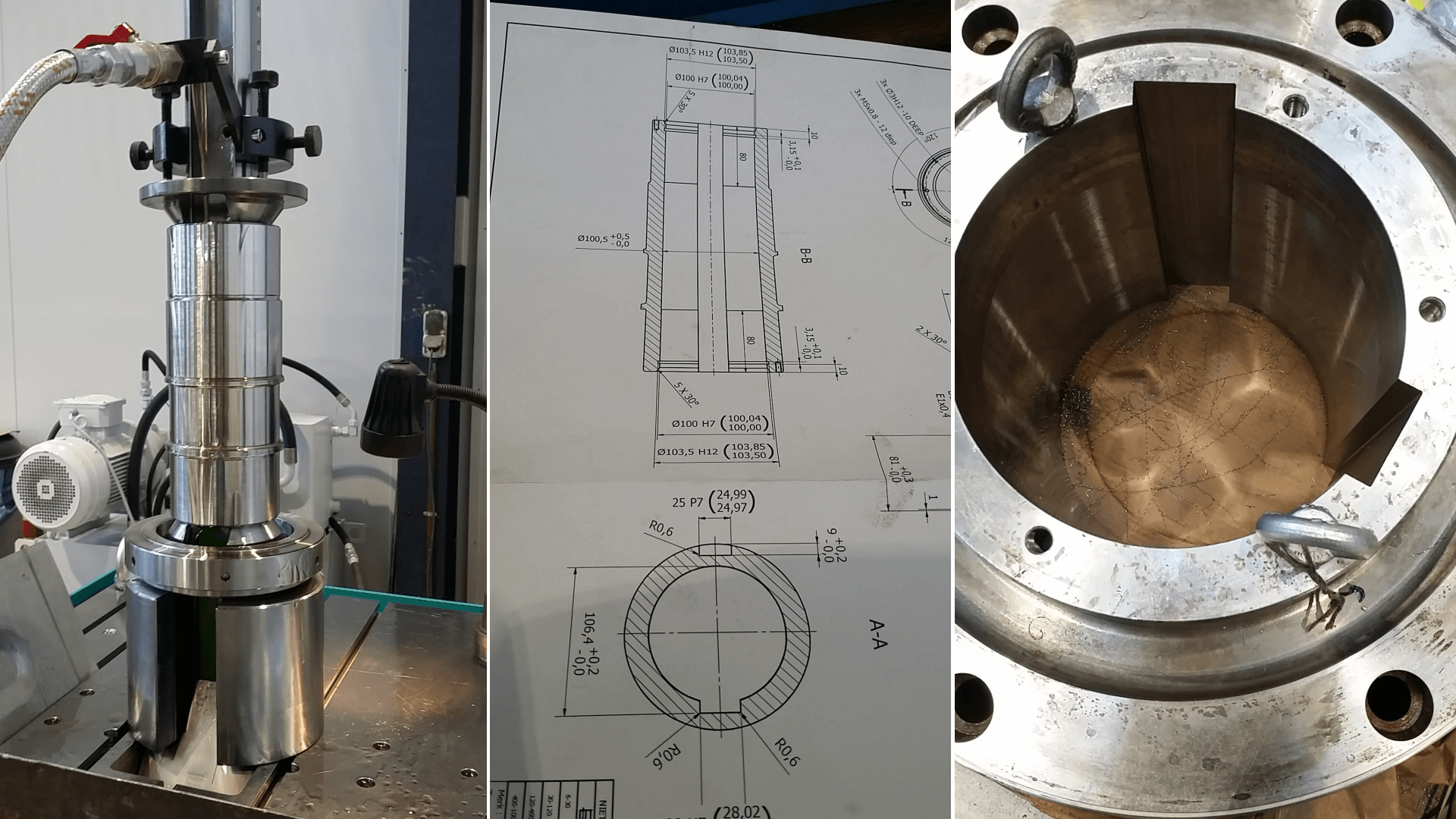 GBS Gearbox Services invests in new Leistritz machine
GBS adds new Leistritz keyseater machine
Faster keyseating machine with higher precision
The capabilities of a traditional Key Seating machine have now been increased to what was exclusive to internal shaping or broaching machines. In addition to the standard application for keyseaters to cut single keyways in bores, Leistritz key seater machines are ideally suited for multiple grooves in a bore to produce internal splines or even helical grooves. The CNC control of the Polymat machine model allows the addition of several sizes of B axis rotary tables. In the case of many toothed internally splined components, Leistritz has the ability to design/manufacture cutters which can cut multiple grooves in a single position to shorten the cycle time. Additionally, the CNC is capable of cutting tapered grooves or grooves which lead in/out of a bore like seen in hydraulic components or similar.
Specifications Polymat 100-CNC
| | | |
| --- | --- | --- |
| Force System: | | Hydraulic |
| Maximum Cutting Width: | | 100 mm |
| Maximum Cutting Length: | | 1,200 mm |
| Bore Diameter Range: | | ⌀ 10-500 mm |
| Maximum Workpiece Weight: | | 25,000 kg |
| Cutting Speed Range: | | 0-25m/min. |
| Feedrate: | | 0-5mm |
| Tapered Bores Possible: | | Yes |
| Tapered Depths Possible: | | Yes |
| Helical Groove Possibility: | | Yes |
| Indexer Available: | | Yes |
How keayseating works
The keyseating process cuts a keyway in stepwise manner. A cutter is pulled vertically with a continual stroke movement along the borehole, combined with a horizontal thrust motion. The thrust is delivered after each stroke by a feed bar that thrusts the cutter in steps between the cutter guide bar and cutter bar. To ensure gentle machining for the tool and workpiece, the cutter is automatically lifted off before the upward movement. The keyseating machines are equipped with a twin-column hydraulic guidance system. The in-line arrangement of tool and tool slide creates a fully linear alignment of forces within the tool and machine system. This avoids lateral forces and leverage, so that the machine is extremely long-lasting and virtually free of wear.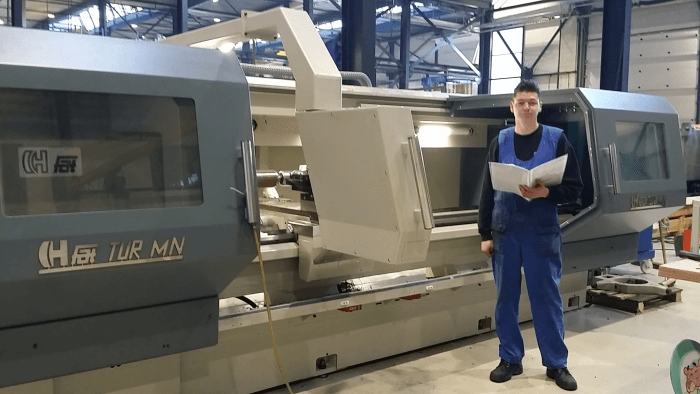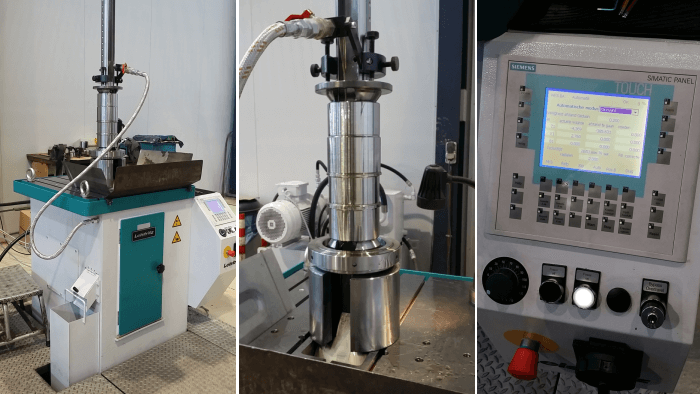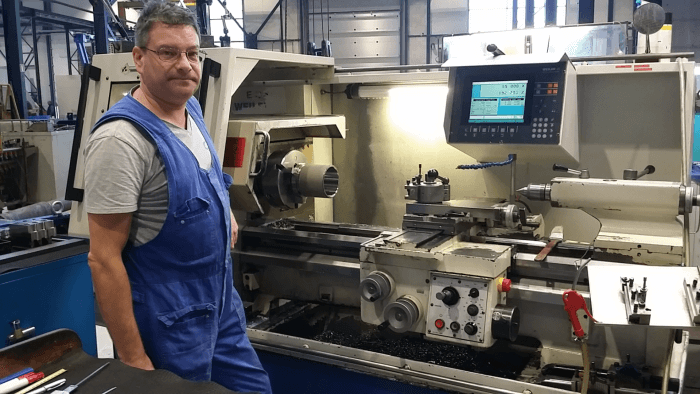 GBS adds new Fathaco manual/CNC combination high-precision lathe
Power... Precision... Performance
TUR MN is a manual/CNC combination high-precision lathe. Equipped with the very latest Siemens SINUMERIK 840 D SL control system and AC drives it became a production unit for manufacturing the high-precision, complicated parts made as one-offs or in small batches.
Bed
The bed with two guide ways of box-type design is made from high-grade pearlite cast iron. Double-V guide ways, along with the inner V-way for tailstock, are induction hardened and ground. The heavy-ribbed bed is double walled. This substantially minimizes vibration and improves finishes.
Headstock
The headstock is of a modern compact design. The heavy duty spindle is supported in the front with one double-direction angular contact thrust ball bearing and one double-direction angular contact thrust ball bearing on the back side. This system allows using big spindle bores while keeping high precision, rigidity for heavy loads, high turning speed and superior surface finish.
The main spindle is powered by a Siemens AC variable speed 18,5 kW motor (S6). The power is transmitted to the spindle by means of multi-V power belt. To ensure a high turning torque at low rpm, the machine is equipped with 2-speed planetary
gearbox
. The gear change is automatic.
Tailstock
This specially extended neck allows more clearance between the tailstock body and the cross slide. This design permits better access for machining parts close to the tailstock center. The extra-large 100 mm diameter quill is hardened and ground and has MT 5. The tailstock can be easily positioned by carriage using an quick-disconnecting coupling. Only one cam lever clamps and unclamps tailstock to the bed. An hydraulically operated tailstock quill is offered as option.
Standard equipment
Siemens CNC system: Sinumerik 840D SL with Shop Turn
Complete coolant system
Manual tailstock
Hydraulic aggregate
Absolute Encoders
Optional equipment
Hydraulic or pneumatic actuated chuck
8-position tool turret head
Hydraulic tailstock
Spindle indexing with driven tooling
Transformer to other voltages than 3 phase 400 V
Linear scale - measuring system for X-axis and Z-axis
Technical specification TUR 560/630/710 MN SERIES LATHES
| | | |
| --- | --- | --- |
| Swing over bed: | | 630 - 710 mm |
| Swing over saddle: | | 370 - 450 mm |
| Spindle bore: | | 165 - 190 mm |
| Distance between centers: | | 1000 - 2000 - 3000 - 4000 mm |
| Max. workpiece weigth between centres without steady rests: | | 2000 kg |
| Spindle speed range: | | 2 - 1850 mm |
| Main drive power: | | 18.5 kW |
Gearbox Services International - expert in machining of gears, gearbox housings and other related parts
Looking for high precision work and fast delivery times? Our sales employees will gladly answer all your questions.
Contact us